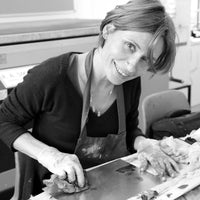 About Anne Gournay
Anne Gournay finds inspiration in her passion for charcoal drawing, and photography. She tries to recreate the atmospheric images one could associate with these media, creating an artwork overflowing with contrast. Her screen prints are more graphic and conceptual. Enthusiastic about new techniques, she uses various forms of printmaking, from relief to screen-print, including photopolymer and traditional etchings, sometimes combining them. She uses her camera as a sketchbook, and uses her own photographs in her work.
She lives and works in North-West London.
Her work is in private collections worldwide, and is part of the V&A Collection Fund, and the Scarborough museum trust archives.