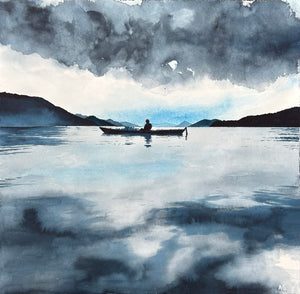 After The Storm II
Regular price $1,097.00 Sale
A cyanotype and watercolour painting on Saunders Waterford paper, inspired by a trip in the Johnstone Strait, British Columbia. This is based on a photograph I took when we went out for a very early morning canoeing trip, trying to catch a glimpse of the local wildlife, especially orcas and dolphins.
I start by making the cyanotype (an old photographic process from the 19th century), then paint with watercolours when the paper is dry, to change the mood of the image, and modify its context. Each painting is therefore unique.
Image size : 46x46cm.
Unframed £850 - Framed £980. Available unframed only online (made to order, so it's not going to be exactly this one...)
Signed A.G.
Unique